A taste of old Japan and 'things on sticks'
Kyoto
If Tokyo is the neon mecca for shopping, and a sneaky peek into 2019 (according to Blade Runner), then Kyoto is the opposite, a look into Japan's past of samurais and geishas. It has a more serene pace that revels in the joys of ancient Japan, and when you have over 2,000 temples and shrines to clap, bow and 'call the ancient family spirits' in, then why not celebrate that tradition?
We met up with old friends (Chris and Pook from Bangkok) and were introduced to Chris Rowthorn (ex-Lonely Planet Kyoto editor, and editor of the highly recommended insidekyoto). Chris R took us out for an authentic Kyoto food experience which involved taking shoes off and sitting cross-legged on a tatami mat - my knees wailed in horror at the thought and duly grumbled all the way through the meal, but it was worth it, small plates of excellent food kept arriving one after the other. With our bellies full, we were set up for two days of temples.
To write up all the temples we saw would be foolhardy and frankly a bit repetitive. So to summarise...
Golden Temple: Looks amazing, we got there early (like, before-it-opened early) to beat the rush - only to find every visitor to Kyoto had the same idea. It was unbearably rammed so bear this in mind if you visit. A great view if you can see past the forest of selfie sticks in the way!
Daitoku: A temple complex that has certain extra sub-temples open to the public in May - the gardens are stunning and was definitely less busy than the Golden Temple - a real highlight.
Honen-in: Another nice temple that was a lot quieter (mainly as it is up a hill); this was slightly more reminiscent of a smaller Angkor Wat temple.
Philosopher's Path: This was hugely popular with our group and other tourists alike, it is pretty and a pleasant walk but didn't do a lot for me otherwise.
Fushimi-Inari-Taisha: The classic Kyoto shrine with its impossible number of Torii gates that meander up a hill - it truly is spectacular but be warned, we got there at 7.30am and we shared the place with a few early risers... an hour later it was heaving so if you want a classic shot looking through all the gates without a random mum, dad and a grumpy kid looking at you from your mantlepiece forevermore, then get in early - it is worth the eye-watering start though!
The temple experience is replicated on Pontocho Alley, the picture-perfect narrow sidestreet just over Gion Bridge in the heart of Kyoto, lined with stunning (read: expensive) restaurants. If it was 5 times as wide you could just about squeeze everyone in looking for that authentic (cough... tourist) experience. I could live without it, to be honest.
Our last few days in Kyoto were spent eating the most amazing food; we stumbled into what seemed a slightly ramshackle shop (Oi-Teisha?) on one occasion; it seemed equally likely to be a massage parlour as it was a food emporium (they were keen on mentioning spit-roasting for some reason?). Luckily/unluckily it was the latter and served 'things on sticks' as we called it (Kushiyaki). For a few hundred Yen each you sit at a narrow bar and order food which is cooked in front of you, it is amazing quality and didn't cost the earth.
Japan has taught us not to judge a book by its cover and that isn't more true than with the dining experience. You usually have to take a slight risk as you open an unassuming door to reveal the restaurant inside... we haven't been let down with the food once yet, so from popular areas down to non-touristy side streets, it's probably worth a punt.
We left Kyoto with aching legs and sated bellies. Sadly we didn't see a geisha but given the hassle from tourists they get, to the point where they need to be protected by the local shop staff (they have signs saying 'don't touch the geishas' in certain areas) then perhaps that isn't such a bad thing.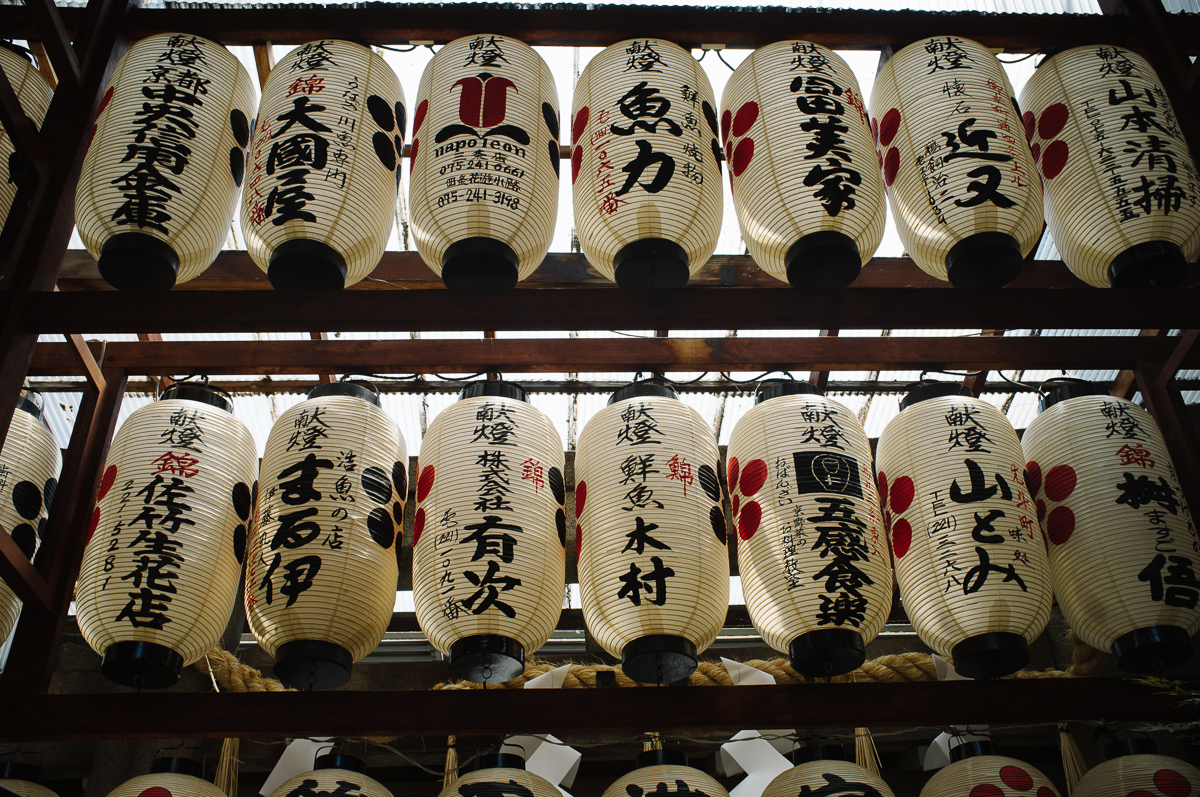 Brad Merrett